O

n October 23rd, 2008 we once again met to continue the ongoing effort to restore our 0-6-0. First task undertaken: get our new boiler tubes into the steam boxcar. Charlie, Nathan and I spent the better part of the morning passing tubes up and piling them in neat orderly rows. Of course the rows became less orderly as the morning progressed. Thankfully they are now in, and just in time, as the first snow flew that next weekend. Thanks to the continued generosity of Roger Stabler and James Mason we are now able to settle our debt with the V&T and Tom Gray.
Also thanks to Norm and Rod for arranging and finallizing the purchase.

The tender was parted from the engine to allow us to jack it up a bit in an attempt to take some weight off the spring rigging. The engine is now in a semi-permanent location up against the Silver Hostel which will allow the diesel guys to utilize the west end of the pit. The rear of the engine was jacked up to see what would shake out. The #6 driving box seems to be wedged too tightly to drop down, so this situation needs to be remedied prior to a complete lift in the Spring. Roger, Hank and Tom spent most of the day in the pit fighting the wedged box, and removal of some brake rigging.
Nathan "Maverick" Osborn and James Cowdrey continued taking readings on the boiler shell, then downloading those numbers into the database. Around two-thirds of the first two courses are done, they will be back in the Spring for more. Everyone took a turn inside the shell needlescaling, not a particularly pleasant job, but a necessary one.
Nathan "Maverick" Osborn preps a surface for the ultrasonic tester. - pic by Dana.
Dana arrived Friday night and cooked up some roast beast. Portola nights were quite cool, bordering on cold. For me it was nice; real "Fall" weather is something we don't seem to get here in LA. As I type this it is close to 90 degrees here in Lakewood and I'm watching continuous wildfire coverage on the news.

Saturday was truncated due to a family obligation in Palmdale on Sunday I needed to attend, so I was out by 11:00. Dana helped out Nathan and James with shell readings, and went home late. All in all a productive session. Thanks again to everyone who pitched in, especially Charlie, who once again saved us by getting the coffee done first thing in the morning.


Please make sure to purchase one of our Steam Dept. Calendars for 2009. A portion goes toward the restoration. Have a safe and happy Holiday Season!
-JCA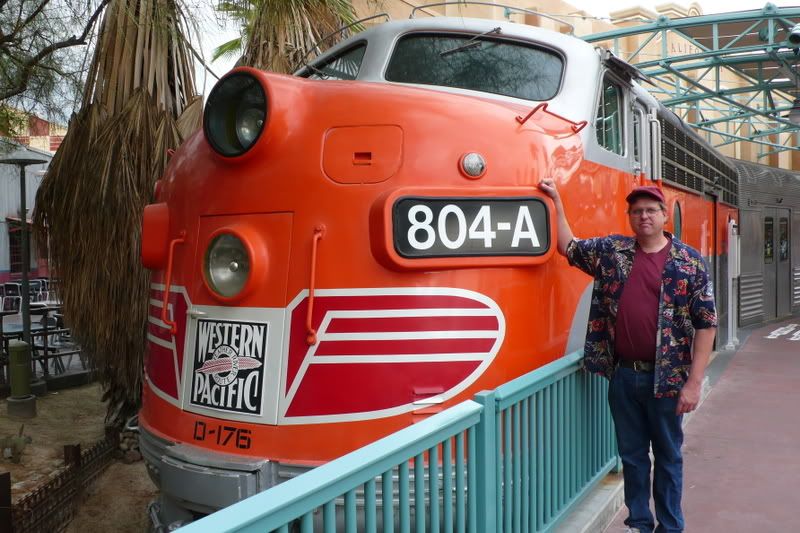 WP Lives!