O

ver the Labor Day weekend, Dana Greeley and his friend Chris Parsons picked up a set of new 2" diameter SA-178 boiler tubes for the 165. These were surplus to the
Virginia & Truckee
tourist operation in Virginia City, Nevada, and are being sold to the WPRM at a reduced rate thanks to the generosity of Bob and Tom Gray. Also thanks to Norm Holmes for his work to broker the deal on behalf of the Steam Dept. Please consider a tax-deductible donation to offset the cost of these tubes! The next major expenditure will be the 5 1/2" diameter superheater flues.
Our new friend Chris Parsons loaned us his truck and trailer.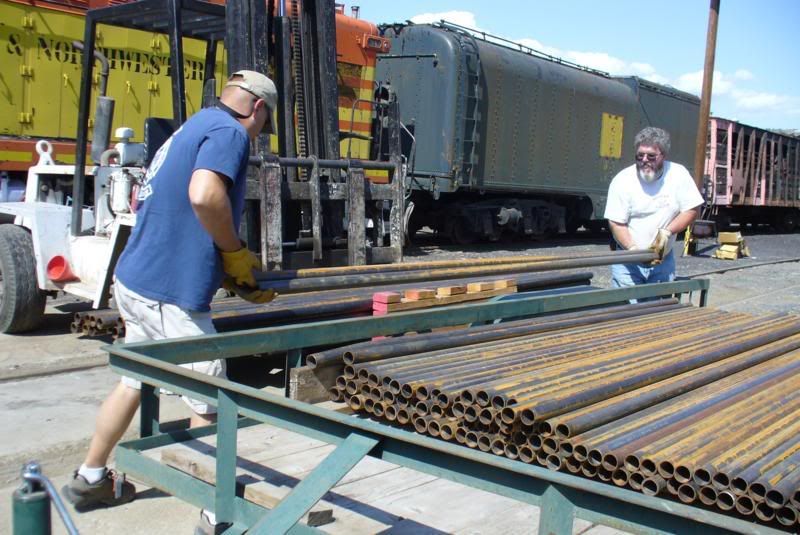 Chris and Dana unload the new tubes onto the forklift.


Member Vic Neves generously offered to trade one of the 165's original enameled tender emblems back to us. Recently, it arrived and was temporarily mounted back in place for photos. In it's current condition it will require some conservatory work, but should clean up quite nicely. This emblem now joins one of the original steam gauges as "lost" items that have been returned to the project. Thanks to Vic for getting it back to us, and Rod McClure for facilitating it's return.
Update: Tonight Norman Holmes informed me that he will donate another tender emblem for the opposite side, this one off of WP #40, a 2-8-0 scrapped in the '50s. Thanks Norm!

Thanks to Wayne for the following pictures: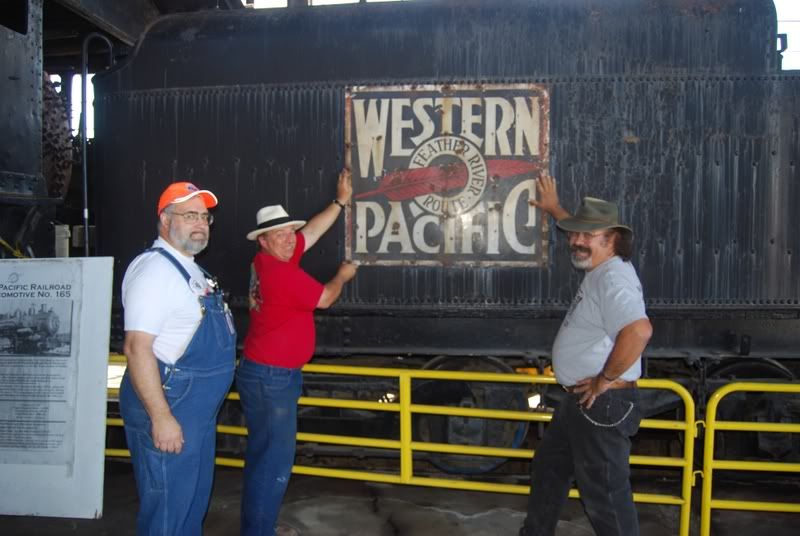 Steve Habeck, Wayne Monger, and Vic Neves display the repatriated emblem in place on the tender.
WP Emblem back on the tender.

Thanks again to everyone involved in these accomplishments. The project is gaining momentum so let's keep it going! Our next work session in Portola will be Oct. 23rd-25th, 2008. - JCA